Free Olympic Tickets Draw – Thanks to Nicky our Membership Co-ordinator who spotted the opportunity offered by Badminton England, our club has been been able to purchase 2 tickets to Olympic Badminton (Men's Singles Quarter Finals and Women's Doubles Semi-Finals) at Wembley Area on Thurs Aug 2, 5 pm.  The committee decided to offer these tickets for free to some lucky member. Members names were placed in a hat and a draw was held Monday July 9. Congratulations to Sam Roath (Gold group).
Logo Competition Results – It was a really tough decision.  The committee received 18 designs in all. Some had to be eliminated because of their similarity to other logos found on the internet.  From the remaining, the committee submitted three designs to a members' (the players) vote.  The result was a very close call between two designs but there can be only one winner. Congratulations to Dan Riley (Gold group), who wins £25 for producing the winning logo.  We are delighted with how it looks.  Thanks to everyone who participated!
2012 Coach's Award – This is the first year for the Coach's Award.  The committee asked the coaches to chose a club member who best exemplifies true sportsmanship, determination and dedication to the sport.  Dan Riley was the unanimous choice amongst the coaches.  Many congratulations to Dan Riley, of the Gold group.
Congratulations to all the bronze level winners and runners-up 2012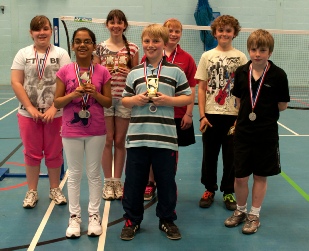 Club Championship Tournament – 2012
Held: Saturday April 21, 2012
Congratulations to all the winners and runners-up! Spectators were treated to some nail-biting matches.  The girls singles final was very close and required the third game to decide a winner. The boys doubles final was equally as exciting to watch, with hard smashes and excellent defending from both sides and many long and tenacious rallies.
Many thanks to the people who helped with the refereeing.  
Gold and Silver Tournaments had been cancelled due to lack of entries.  This was the first year a club tournament was held, so we are looking forward to more members participating next year.